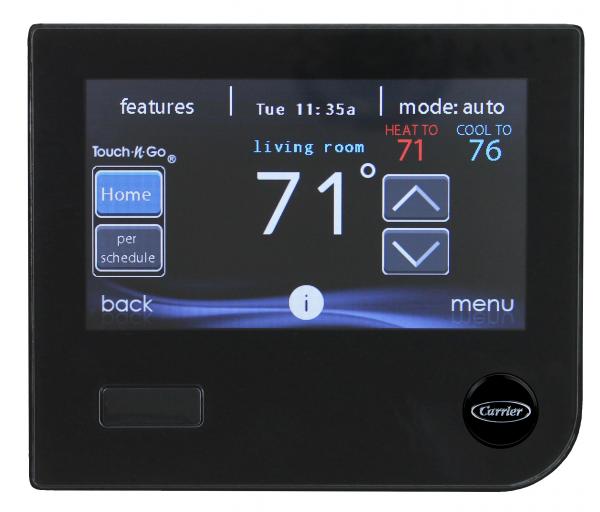 After all the careful research and consideration taken to purchase a heating system, don't settle for less than the best in your heating controls.  Whether you bought a gas furnace, heat pump, boiler or ductless system, Carrier has the thermostat for you. We offer everything from high-tech Wi-Fi® enabled thermostats down to reliable and easy to use programmable thermostats.
Thermostat Options
Erickson will recommend the ideal thermostat for your home, but it never hurts to get a little education on such a significant purchase.  Learn about the three tiers of thermostats that Carrier has to offer (specific features depend on the model)…
Infinity
The Infinity® system control is designed for homeowners who understand the value of precision comfort and an easy to use, intuitive user interface. With wireless connectivity, occupancy sensing capabilities and built-in smarts, the Infinity system control puts you in command of comfort and energy savings like never before. Taking your comfort well beyond temperature control, the Infinity System Control can manage humidity levels, airflow, ventilation, indoor air quality and up to 8 zones, from wherever you are, with a connected smartphone or tablet. It's also compatible with Amazon™ Alexa™.
Cost: $$$
ecobee
The ecobee, Powered by Carrier, tailors itself to your schedule, your personal comfort preferences and the weather outside. It can also show how much money you've saved each month and give you insight into your heating and cooling equipment performance. Works seamlessly with third-party smart home platforms such as Apple® HomeKit®, Amazon® Alexa®, Google® Assistant, Samsung® SmartThings® and IFTTT®. 
Cost: $$
Performance
The Performance Series thermostat collection has something for everyone.  You can unlock the power of a smart thermostat like the Côr™ with its modern touch screen face and intelligent heat staging capabilities to maximize your energy savings.  Or if you want something more basic and easy to use, a programmable Touch-N-Go® Performance Edge® thermostat is for you.
Cost: $$
Comfort
The widest range of thermostat capabilities and options are available at the Comfort Series level.  The Wi-Fi® Thermostat allows you remote access and is the most intelligent in the Comfort Series.  There are also are a variety of programmable and non-programmable options for those who want a more basic option.   
Cost: $